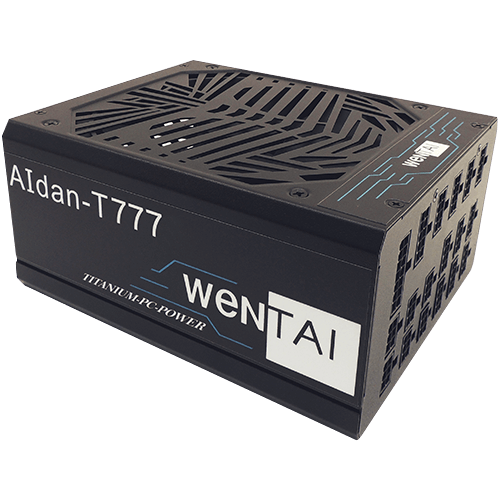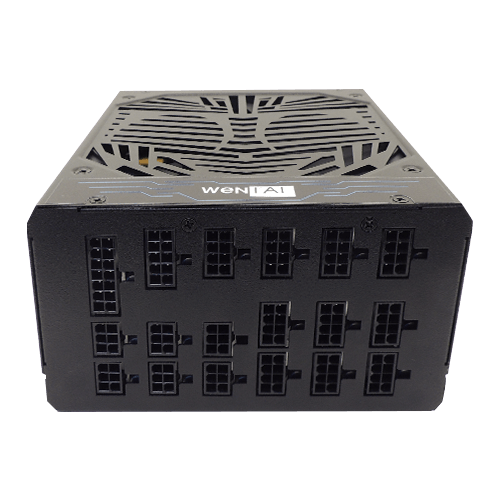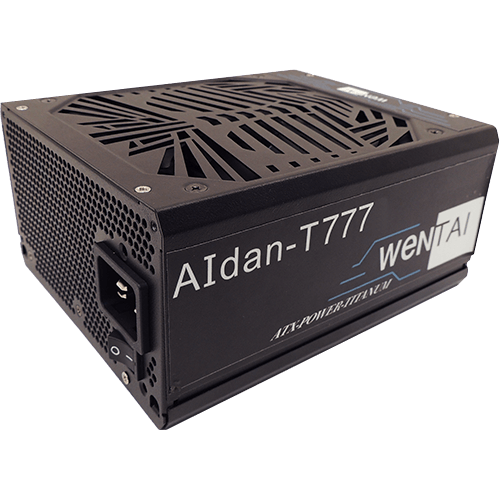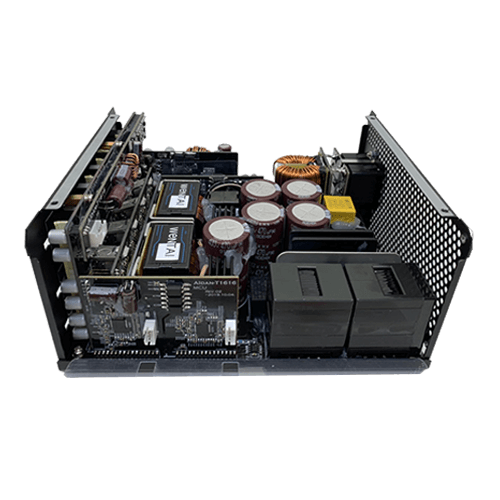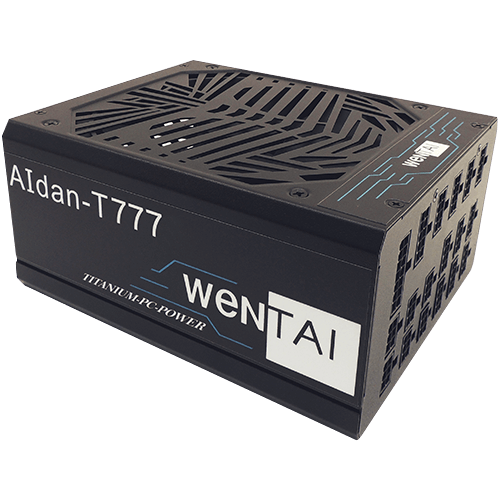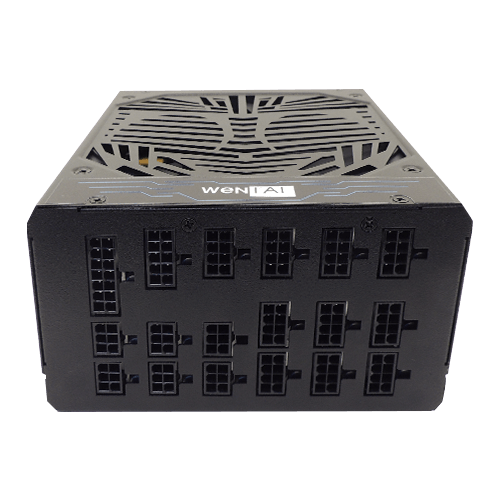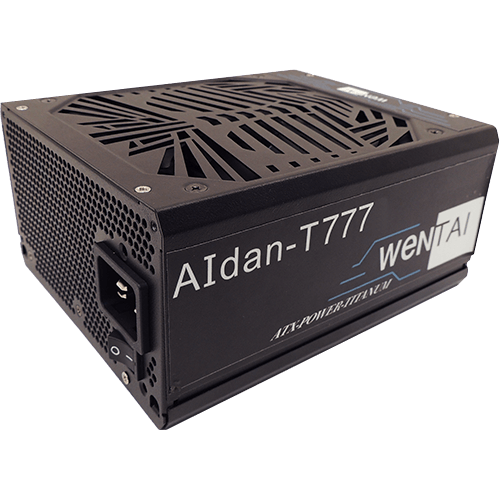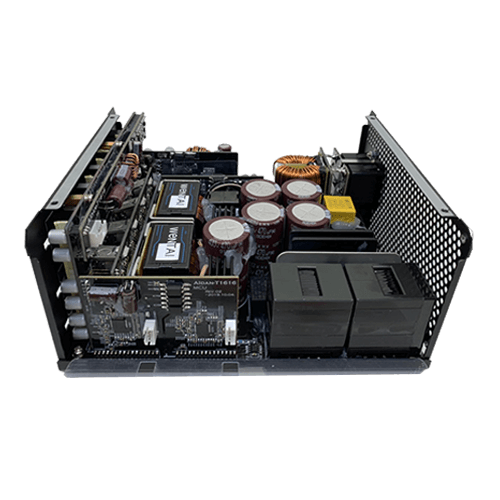 Aidan-T777 Titanium PC Power
Real Digital Titanium Power for Worry-Free Gaming Experience
ATX Power777W
EfficiencyTitanium efficiency
AI Control Digital PFC/ LLC
ModularFully modular
Capacitor100% Japanese capacitor
Fully ProtectedOVP、OPP、UVP、OTP、SCP、OCP
Contact Us
Unbeatable Performance
The Wentai Aidan series ATX power supply with the best stability, reliability and overclocking capability is the perfect choice for professional and high performance gaming systems as well as mining systems.
Titanium Efficiency
80 PLUS Titanium certified. Industry's highest power efficiency up to 94%
Green
RoHS lead-free materials, comply with EuP and Energy Star Standard.
Quiet
Low noise fan system
Ultra Stable
Apply 100% Japanese capacitor. The greatest reliability & higher efficiency.
Protections
OVP, OPP, UVP, OTP, SCP, OCP ( 12V advance 4-channel design )
Real Digital
Digital PFC / Digital LLC. AI Power Control.
Fully Modular
Good cable management. Improve airflow to lower temperatures.
Safety
Meet cTUVus, TUV, CB, CE CCC, FCC, BSMI compliance.
---
Real Digital AI Power
The Aidan series ATX power supply uses patented technology - Digital PFC / Digital LLC ( AI power control ) to intelligently control different power modes for improving efficiency and saving energy. That's why the power efficiency of Aidan-T888 exceeds 94%, and only little electrical energy is converted to waste heat in standby mode, ultimately saving costs and extending the usage life of PC components.
---
100% Japanese high voltage capacitor
Apply 100% Japanese high voltage capacitor to offer stable voltage outputs and higher efficiency. Apply highest Japanese low voltage solid state capacitor to get the most reliability and greatest performance.
Fully Modular Design
Fully modular design provides good cable management: fully catering efficient airflow, lowering temperature without wires messing around.
Strong Hardware Protection
Strong hardware protection (Quad 12V rails advance design) :
Over Voltage Protection (OVP)
Under Voltage Protection (UVP)
Short Circuit Protection (SCP)
Over Power Protection (OPP)
Over Temperature Protection (OTP)
Over Current Protection (OCP)
Green and Low Noise
Green and Safety
Use RoHS lead-free materials and comply with EuP Directive and Energy Star Standard.
Meet cTÜVus, TÜv , CB , CE, CCC, FCC, BSMI compliance.
---
Low Noise Fan System
Featuring 140mm silencio double ball bearing fan, so it is very quiet and reliable. You may never need to use your fan at all, since even at 50% load, the power supply is still in fanless mode.
The Pioneer of Using GaN Components
The full range of Aidan Titanium power supplies takes the lead in using GaN transistors instead of the current mainstream silicon wafer (Si). Due to the small size and high efficiency of the GaN components, the size of the device can be greatly reduced. The overall body length of Aidan Titanium PC power is only 180mm. It is the smallest titanium power supply with the power between 777W and 1600W. It also has excellent performance, improved heat dissipation and better overall reliability.
Output Rating
MODEL
Aidan-T777
AC Input
115-250Vac, 16-10A, 50-60Hz
Output Rail
V1
V2
V3
V4
V5
V6
V7
V8
DC Output
+12V1 (MBPH + SATA + MOLEX)
+12V2 (CPU + VGA)
+12V3 (VGA)
+12V4 (VGA)
+5V
+3.3V
-12V
+5VSB
Max Output Current
16.18A
16.18A
16.18A
16.18A
20.0A
20.0A
0.3A
3.0A
Max Combined Power
777W
100W
3.6W
15W
Total Power
777W
SPEC Download
Datasheet
80 PLUS test reports
Specifications
MODEL
Aidan-T777
Power
777W
Titanium Efficiency
90~94%
(90% at 10% load ; 92% at 20% load ; 94% at 50% load ; 90% at 100% load)
Intel Power Design Guide
EPS Ver.2.92
CPU Platform Support
Compatible with the latest Intel & AMD Chipsets
Input Voltage
100~250V
PFC
Active PFC
Appearance
Compact design with efficient convection heat dissipation
Fan Type
140mm silencio double ball bearing fan
Dimensions
180mm(L) x 150mm(W) x 86mm(H)
Circuit Protection
OVP, OCP, OPP, SCP, UVP, OTP
Safty
cTÜVus, TÜv, CB , CE , CCC, FCC, BSMI
Operation Temperature
0~50°C
Warranty
10 years warranty
* Several warranty solutions are available for our customers to choose from.
Connectors (Detachable Cables)
MB 20+4Pin
1 cable
CPU 4+4Pin
2 cables
PCI-E 6+2Pin
8 cables
4 SATA
4 cables
3 Molex (4Pin)
2 cables
Molex to FDD Adapter
1 cable