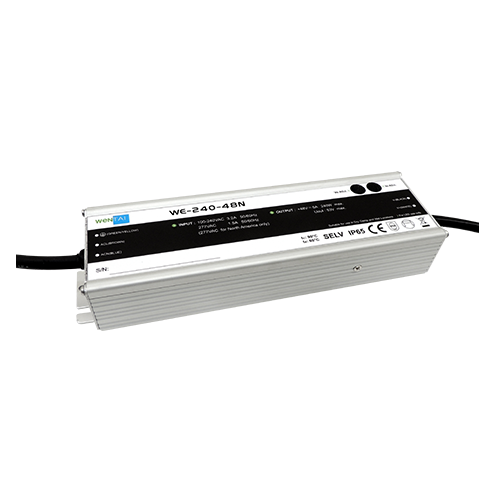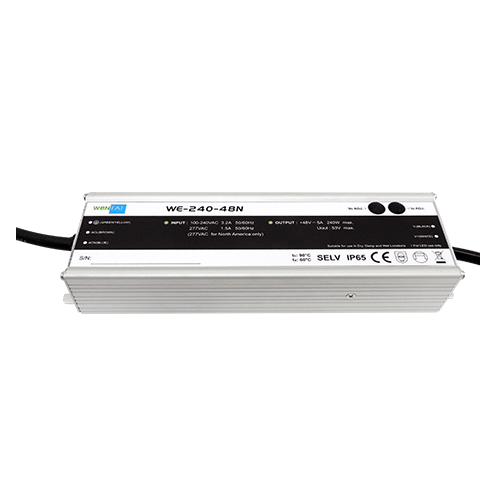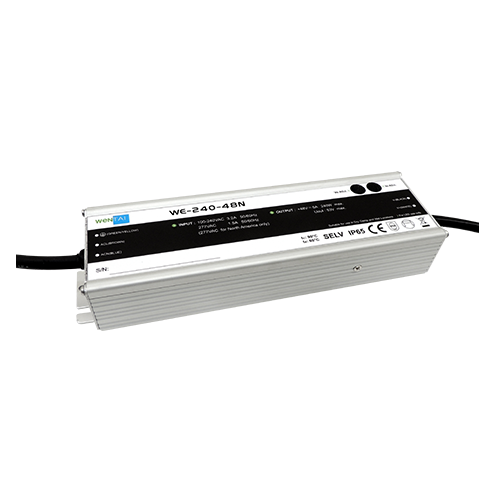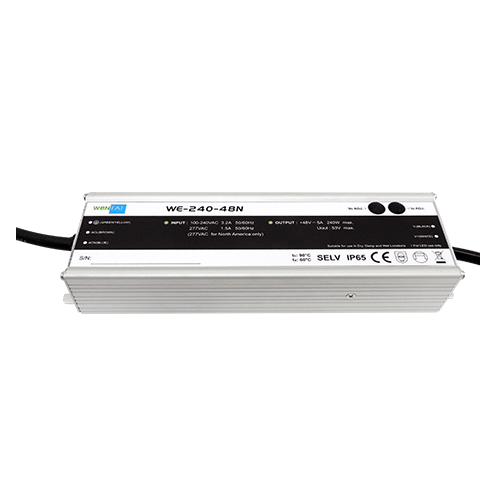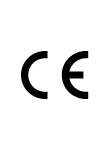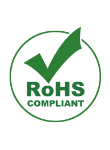 Independent 240W Non-Dimmable LED Driver
Power240W
Output Voltage12V, 15V, 20V, 24V, 30V, 36V, 42V, 48V, 54V
Input Voltage90-305VAC
Fully ProtectedOVP/OCP/OTP/SCP
DimmingNon-dimmable
IP RatingIP65/ IP67
Contact Us
Wentai 240W non-dimmable series is the independent LED AC-DC driver available with 12V to 54V full-range output voltage.

Fully Protections and Meets Safety Standard
The 240W non-dimmable LED driver is suitable for locations down to -40°C and up to 70°C ambient temperature. The power supplies are short circuit, over temperature, over current, and over voltage protected. It complies with safety regulations, such as CCC, CE, UL, TÜV, PSE and comes with a full 7-year warranty.

Suitable for Outdoor and Indoor Lighting
With IP65/IP67 waterproof / dustproof features, the 240W non-dimmable LED driver is perfect to use in the harsh environment for both indoor and outdoor LED high bay, street light, flood light, electronic signage, advertising light box, video wall.
Independent 240W Non-Dimmable LED Driver
Model
Download
Type
Power
Output Voltage
Input Voltage
Warranty
WE-240-12N

1.17 MB

AC/DC
240W
12V
90-305VAC
7 years
WE-240-15N
AC/DC
240W
15V
90-305VAC
7 years
WE-240-20N
AC/DC
240W
20V
90-305VAC
7 years
WE-240-24N
AC/DC
240W
24V
90-305VAC
7 years
WE-240-30N
AC/DC
240W
30V
90-305VAC
7 years
WE-240-36N
AC/DC
240W
36V
90-305VAC
7 years
WE-240-42N
AC/DC
240W
42V
90-305VAC
7 years
WE-240-48N
AC/DC
240W
48V
90-305VAC
7 years
WE-240-54N
AC/DC
240W
54V
90-305VAC
7 years
SPECS
| General Information | |
| --- | --- |
| Type | Independent LED Driver |
| Series | 240W Non-Dimmable Series |
| Power | 240W |
| Dimension: (L x W x H) | 246 x 68 x 40 mm |
| Applications | LED high bay, street light, flood light, electronic signage, advertising light box, video wall |
| Safety Compliance | CCC, CE, UL, TÜV, PSE |
| Certified | CE |
| Features | |
| Input Voltage | 90~305 VAC |
| Frequency | 50/60 Hz |
| PFC | 0.95 |
| Efficiency | > 92% |
| Protection | OVP/OCP/OTP/SCP |
| Dimming | Non-dimmable |
| Working Temp. | ‐40°C ~ +70 °C (Industrial grade) |
| IP Rating | IP65/ IP67 |
| Surge Immunity | IEC61000-4-5 4KV |
| Output Voltage | 12V, 15V, 20V, 24V, 30V, 36V, 42V, 48V, 54V |
| Output Current | Output is adjustable to constant voltage / constant current |
| Lifetime | > 70,000hrs (25 °C) |
| Warranty | 7 years |