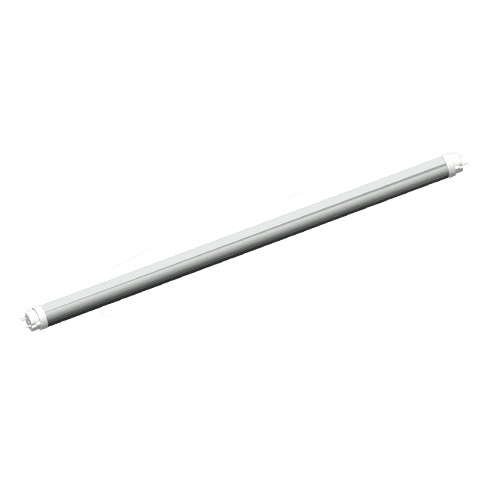 Lifetime
50,000 hrs
IP Rating
IP 20
Beam Angle
120°
Efficiency
Up to 115 lm/W
CRI
>80
Wattage
10W~37W
LT5
LED T8 Series Tube
Power10W~37W
CCT3000K~6500K
CRI> 80
EfficiencyUp to 115 lm/W
IP RatingIP20
Lifetime50,000 hrs
Contact Us
Super Power Saving and Light On Without Delay At Low Temperature
Reduce Energy Consumption
Energy saving up to 50% compared to fluorescent lamps.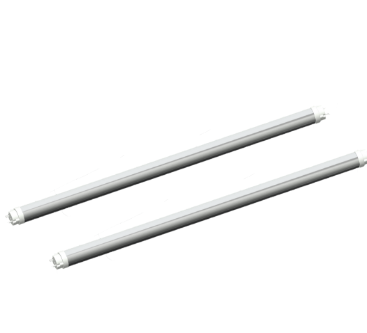 ---
Easy to Install
Replace T8 fluorescent tube directly and install easily.
Special Optical Design
Uniform light without glare and flicker.
---
Suitable for Low Temperature Environment
It can maintain normal operation at -25°C.
Long Life,
Lower Cost

Use of Top Brand LED Chips
to ensure long life with less light decay and lower maintenance costs.
LED Lifetime Comparison
The lifetime of LED T8 Tubes is 10 times longer than a fluorescent lamp. It is more environmentally friendly and durable.
Fluorescent Lamp

LED T8 Tube

Shorter Lifetime
Longer Lifetime
5,000 HRS
VS
50,000 HRS

---

10 HRS / DAY
1.4
YEARS / PC
13.7
YEARS / PC
Uses of LED Lights
Wentai LED T8 Series Tube is perfect for shop, hotel, supermarket, office, warehouse, and parking spaces.
Parking
Warehouse
Hotel
Shop
Supermarket
LED T8 Series Tube
Model
Download
Power
Luminous Flux
Color Temp.
CRI
Beam Angle
Input Voltage
Input Current
Luminous Efficiency
Lifetime
IP Rating
LT520A

582.92 KB

10W
1150 lm
6500K
>80
120°
100 - 240V
0.04 - 0.1A
115 lm/W
50,000 hrs
IP20
LT520B
1150 lm
5000K
115 lm/W
LT520C
1120 lm
4000K
112 lm/W
LT520D
1000 lm
3000K
100 lm/W
LT522A

582.92 KB

12W
1350 lm
6500K
>80
120°
100 - 240V
0.04 - 0.11A
115 lm/W
50,000 hrs
IP20
LT522B
1350 lm
5000K
115 lm/W
LT522C
1300 lm
4000K
112 lm/W
LT522D
1200 lm
3000K
100 lm/W
LT540A

582.92 KB

20W
2300 lm
6500K
>80
120°
100 - 240V
0.08 - 0.2A
115 lm/W
50,000 hrs
IP20
LT540B
2300 lm
5000K
115 lm/W
LT540C
2240 lm
4000K
112 lm/W
LT540D
2000 lm
3000K
100 lm/W
LT448A

582.92 KB

28W
3200 lm
6500K
>80
120°
100 - 240V
0.11- 0.3A
115 lm/W
50,000 hrs
IP20
LT448B
3200 lm
5000K
115 lm/W
LT448C
3040 lm
4000K
112 lm/W
LT448D
2700 lm
3000K
100 lm/W
LT5A0A

582.92 KB

33W
3800 lm
6500K
>80
120°
100 - 240V
0.11- 0.3A
115 lm/W
50,000 hrs
IP20
LT5A0B
3894 lm
5000K
118 lm/W
LT5A0C
3700 lm
4000K
112 lm/W
LT5A0D
3300 lm
3000K
100 lm/W
LT5A1A

582.92 KB

37W
4400 lm
6500K
>80
120°
100 - 240V
0.16 - 0.41A
115 lm/W
50,000 hrs
IP20
LT5A1B
4400 lm
5000K
115 lm/W
LT5A1C
4200 lm
4000K
112 lm/W
LT5A1D
3700 lm
3000K
100 lm/W
Dimension
10W~37W
| Power | A max. (mm) | B max. (mm) | C max. (mm) | D max. (mm) |
| --- | --- | --- | --- | --- |
| 10W | 589.8 | 596.9 | 604.0 | 29.3 |
| 12W | 894.6 | 901.7 | 908.8 | 29.3 |
| 20W | 1199.4 | 1206.5 | 1213.6 | 29.3 |
| 28W | 1199.0 | 1206.5 | 1213.6 | 29.3 |
| 33W | 1499.0 | 1506.1 | 1513.0 | 29.3 |
| 37W | 2367.0 | 2374.1 | 2381.0 | 29.3 |
Light Distribution
10W
12W
20W
28W
33W
37W
Installation Method