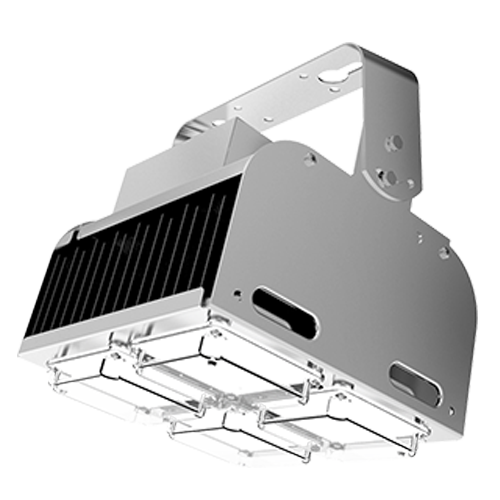 Lifetime
50,000hrs
IP Rating
IP 20
Beam Angle
110°
Efficiency
Up to 135 lm/W
CRI
> 70
Wattage
80W/ 110W
LHB5
LED Square High Bay
Power80W/ 110W
CCT4000~5000K
CRI> 70
EfficiencyUp to 135 lm/W
IP RatingIP20
Lifetime50,000 hrs
ColorSilver
Contact Us
High Efficiency Up to 135lm/W
Efficiency Up to 135 lm/W
Utilize efficient reflectors to improved lumen output.
---
Adjustable Angle
70° angle adjustable for varied usage purposes.
---
Advanced Heat Dissipation
Special thermal design of aluminum heat sink to enhance convective heat transfer for better heat dissipation performance.
---
Lightweight and Compact Design
Lightweight design makes installation easy.
---
Matrix of Multiple Luminaire Units
According to different site requirements, the high bay units can be flexibly arranged to increase luminous flux.
Long Life,
Lower Cost

Use of Top Brand LED Chips
to ensure long life with less light decay and lower maintenance costs.
LED Lifetime Comparison
The lifetime of LED high bay is 4 times longer than a mercury lamp. It is more environmentally friendly and durable.
Mercury Lamp

LED Square High Bay

Shorter Lifetime
Longer Lifetime
12,000 HRS
V.S
50,000 HRS

---

10 HRS / DAY
3.3
YEARS / PC
13.7
YEARS / PC
Uses of LED Lights
Wentai LED High Bay is perfect for hypermarket, warehouse, factory, distribution center, and gymnasium.
Gymnasium
Distribution Center
Factory
Warehouse
Hypermarket
LED Square High Bay
Model
Download
Power
Luminous Flux
Color Temp.
CRI
Beam Angle
Input Voltage
Input Current
Luminous Efficiency
Lifetime
IP Rating
LHB5080B

384.85 KB

80W
10800 lm
5000K
>70
110°
100 - 240V
0.35-1.0A
135 lm/w
50,000 hrs
IP20
LHB5080C
10800 lm
4000K
LHB5110B

384.85 KB

110W
14850 lm
5000K
>70
110°
100 - 240V
0.45-1.3A
135 lm/w
50,000 hrs
IP20
LHB5110C
14850 lm
4000K
Dimension
80 / 110W
Light Distribution
80W
110W
Installation Method